Podcast: Play in new window | Download (Duration: 38:52 — 17.9MB) | Embed
Subscribe: Apple Podcasts | Google Podcasts | Stitcher | RSS | More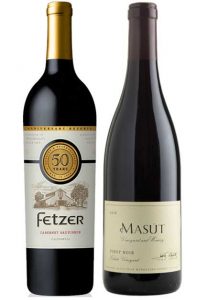 Jake Fetzer joins Steve Jaxon and Dan Berger on California Wine Country today. Jake's family founded Fetzer in 1968 and now Jake has also has opened Masut Vineyard and Winery. Both are located in Mendocino County.
Barney Fetzer was an iconic character in the industry. He came to Mendocino to be an executive in the logging industry. He had a lot of ideas about how to promote wine. He bought only the best grapes and hired the best people. Mendocino county production was hit and miss but after Barney got involved, Mendocino County fruit became very valuable. 90 % of Mendocino County's grapes were going to wine producers outside the county. The eastern edge of the county has a higher elevation so it is cooler and they grow cold climate grapes like Riesling.
Jake and his brother Ben are third generation vintners. The family sold to Brown Foreman corporation, the Jack Daniels company, then it was sold to Concha y Toro, the Chilean company. Dan knows that they have a lot of exciting projects in mind. Jake says they are putting a lot of effort into the winemaking.
Jake's grandfather Barney Fetzer moved to California from Nebraska and met his grandmother Kathleen. His grandfather found a place in Redwood Valley where their 11 children could grow up. They learned farming from other local families. Fetzer Vineyards became a national brand, with a lot of hard work. Jake's father was in charge of farming and bought grapes, so Jake travelled with him as far north as Washington and into Southern California. Masut was the name of a former native American settlement. His father found the name on an old map. Masut means "dark, rich earth."
A lot of people tried to discourage his father from planting Pinot Noir in the area, but he liked a challenge . They chose the best 35 acres of their 1200 acres, the best places for Pinot Noir. Dan says that there were so few growers in Mendocino County that the researchers at Davis and Fresno State didn't spend much effort studying it. So a lot of Mendocino County vineyards have zinfandel that the old Italian farmers planted decades ago. Today they will taste some Zins from the 1970s.
When they planted, there was no AVA appellation so they applied and got Eagle Peak AVA approved in 2014.
Jake has brought a Masut Chardonnay today. They have one acre of Chard, all dry farmed. They use used barrels, so the oak is light. It is more delicate than Dan expected. They also opened a 1974 but the cork appears to be bad, unfortunately. They also have some other bottles of Fetzer Zinfandel from the late 70s.
They open a Cabernet Sauvignon from 1979. Dan says it is in superb shape. This is how Cabernet was made in the 80s. It has bell pepper and wild thyme. There are tarragon and thyme characteristics in the aroma. It is complex. Jake has tasted it at restaurants around the country to show the best of Mendocino. This is only 12.8% alcohol, which is less than the 15% of today's Cabs.
They taste a 2016 Masut Pinot Noir. The location of the vineyard tells part of the story. It is at high altitude which gives a cooler climate, but without fog. Jake tells how they were selling grapes in the early 2000s and met Greg La Follette, who has been on this show before, most recently last November. Greg became a mentor to Jake and his brother Ben when his father died tragically in a river rafting accident. Jake and Ben were interested in continuing the family legacy, since his grandfather and father had laid the foundations for them. They suggested to their mother that they start a winery and she supported the idea. They wanted to continue their dad's dream of planting Pinot Noir in this area. They wanted to focus on estate grown Pinot Noir.
Steve Jaxon mentions that friend of the show Guy Fieri has been awarded a star on the Hollywood Walk of Fame.
Dan mentions that Paul Dolan is a key person here. Dan named him Winemaker of the Year in 1990. At that time, when Dan wrote a story, he volunteered to bring Dennis Martin to the interview, to share the credit. Dennis was the heart and soul of what Paul Dolan put in place in 1988 or '89. By 1990 Dennis and Paul made some of the most amazing wines for Fetzer that have ever been made in the state.
Dan says that today, Mendocino is on the map, but it's too far from San Francisco to be a day trip, and Dan says that makes it a good destination for an overnight stay.