Podcast: Play in new window | Download (Duration: 28:39 — 13.2MB) | Embed
Subscribe: Apple Podcasts | Google Podcasts | RSS | More
Corey Beck, chief winemaker for Francis Ford Coppola's wine portfolio, is back on California Wine Country today, joining Steve Jaxon, Dan Berger and Barry Herbst from Bottle Barn. Corey grew up in Knights Valley and his grandfather was a vineyard manager for Chateau Montelena. He planted the vineyard that produced the grapes that won the Judgement of Paris. The label said Alexander Valley-Napa, even if Alexander Valley is actually in Sonoma.
Dan Berger briefly tells the story of the Judgement of Paris. Steven Spurrier ran a wine shop in Paris and decided to stage a blind tasting competition between his favorite California wines and the best French wines, with French judges. When the California wines won both the white and the red, the French establishment rebelled, but when they restaged it several years later, California won again.
Beck started with the Coppola company in 1998 as assistant winemaker. In 2006 they acquired the Sonoma property which is theirs today, complete with swimming pool. The Coppola Family portfolio other properties including Inglenook. "The good news is, we work for a creative genius," he says.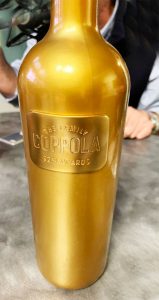 Last Monday night was the award ceremony where Francis Ford Coppola received a lifetime achievement award from Wine Enthusiast. He said, "One of the great joys of my life is that all my family members are now on a wine label." His Director's Cut wines are made in Sonoma County.
Barry Herbst says that Coppola wines did very well in the SF Chronicle competition this year and they are available at Bottle Barn. Corey Beck gives credit to the growers who produce their fruit. They also have a property in Oregon now.
According to Dan Berger, Oregon is producing great Riesling, Pinot Gris and Pinot Blanc, in addition to Pinot Noir. Dan says Gamay Noir is hot as a pistol up there, and we don't even get any in California. The Coppolas also have a resort property in Italy. They practice and celebrate the Italian way of life, centered around the dinner table, and including good wine, in all of their locations.
They describe the wide variety of brands and labels, especially the Diamond series, a consumer-friendly price point. Dan says that Francis wanted those wines to be dry, not "soft." Those wines were dry with structure and balance and "…the market place became a little more sophisticated because of what Francis did."
I
n the mid-90s, when they launched the Diamond Series in the US, there were roughly 3000 wine wholesalers and only 1800 wineries in the US. Now, we have around 600 wholesalers (with some consolidation) and 11,000 wineries in the US. Today that makes it more difficult to get the wines "through that hourglass." Nothing is easy, with consolidation on the wholesale side and the winery side and many alternatives to wine.
A major difference, says Dan Berger, is direct-to-consumer sales. Three years ago, 10% of the wine sold in the US was sold direct-to-consumer, and today that is 40%. That is a huge change and Dan credits Bottle Barn for having the Number One retail concept with their new business model combining the Bottle Barn store with a robust online store that offers delivery.