Podcast: Play in new window | Download (Duration: 35:34 — 32.7MB) | Embed
Subscribe: Apple Podcasts | Google Podcasts | Stitcher | RSS | More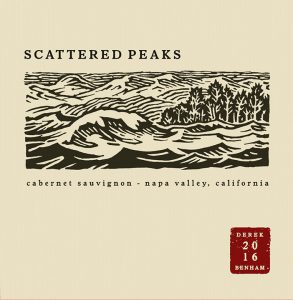 Joel Aiken, winemaker of Scattered Peaks is our guest on California Wine Country with Steve Jaxon and Dan Berger today. Barry Herbst and his daughter Emily Herbst are also in the studio today.
Joel Aiken was winemaker at Beaulieu Vineyard for many years. Beaulieu Vineyard, also known as BV, was founded in 1900 by George de la Tour and his wife Fernande. George de la Tour bought some great vineyards in Napa Valley for $100 or $200 an acre, around the turn of the 1900s that are spectacular now. Joel started in 1982 so he was there for their 50th vintage was in 1986. By the time he retired, he was spending more time doing management work rather than making wine and he is happy to be back to making wine.
Joel Aiken and his partner Derek Benham founded Scattered Peaks in 2017 after Joel retired from BV.
They begin with the first of two Scattered Peaks wines, a 2017 Cabernet Sauvignon from Napa Valley. Joel Aiken talks about how they started by working with the vineyards and getting the right barrels.
Dan Berger has also brought a 1994 Cabernet Sauvignon from BV, made by Joel Aiken back then. It has spent 26 years at the lowest level of Dan's already cold cellar, at about 60 degrees, year-round.
The two Scattered Peaks wines bear description. The name Scattered Peaks comes from surfing, a favorite activity of Derek Benham, who is Joel Aiken's partner in the winery. In surfing, it means when the waves are coming in and going in different directions. It reflects his desire to use fruit from different mountain peaks in Napa Valley. One is more for the cellar.  The small lot needs another 6-10 years. The other one can go maybe 3 to 10, but either could bear 25. Dan says it hasn't become Cabernet yet, it is so young. It is also smooth and silky, says Steve, and Dan agrees. That is the quality that made BV wines famous. André Tchelistcheff controlled the tannins enough that you didn't have roughness. It sells for about $40 per bottle.
Joel Aiken wants to produce wines that are age-worthy, and does not want to make any ordinary wine. Joel remembers working with André Tchelistcheff at BV. He became the first BV winemaker to introduce barrels that were not only American oak, which had been a BV tradition. When Joel Aiken started at BV it was the early 1980s and there were not so many wineries around as there are today. Dan remembers that André was very sharp and insightful, as well as humble. There are lots of BV wines at Bottle Barn. They have single varietals and blends.
Scattered Peaks produces only Cabernet Sauvignon, at least for now. He uses fruit chosen from some of the best vineyards in the Napa Valley, including Morisoli vineyard, which Dan says is one of the best in the valley.
The second of the Scattered Peaks bottles seems more full-bodied than the other one and Dan says it needs more time in the bottle. Dan says that Joel respects the acidity of these wines, which is critical to making them age well. Joel says they won't be soft and silky from day one, but they will be rewarded later.
And speaking of well-aged wines, the 1994 BV Cabernet that Joel Aiken made 26 years ago has aged beautifully and Steve says, "WOW!"
The subject of Merlot comes up late in the show, about 25 minutes in and Dan Berger gives his summary of the Merlot boom and bust and return.