Podcast: Play in new window | Download (Duration: 28:07 — 12.9MB) | Embed
Subscribe: Apple Podcasts | Google Podcasts | Stitcher | RSS | More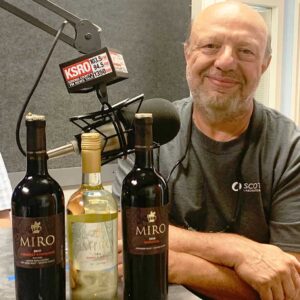 Miro Cellars owner and winemaker Miro Tcholakov is back on California Wine Country with Steve Jaxon and Dan Berger. Miro was on this show exactly 5 years ago, on this episode of August 16, 2017. The last time he was on was 2 years ago, on this episode of September 2, 2020. Barry Herbst from Bottle Barn also joins the show in the studio.
Born in northern Bulgaria, Miro got his first wine glass from his grandfather when he was six. His region includes the Danubian plains, which are hilly actually, about 30 km south of the Danube. There has always been a lot of viticulture there. He learned about wine at home and that led to him studying viticulture in Bulgaria. Then he participated in a study-abroad program in the US 32 years ago. It's part of an international exchange program that is still in place. He worked in Napa for a while, then he worked for Dry Creek Vineyards, which is celebrating their 50th anniversary. Over nine years he rose through the ranks to assistant winemaker. He is also still the winemaker for Trenta-Due Wines, this is his 23rd harvest and he also started his own brand, Milo, twenty years ago.
Dan Berger tells about how Miro got started in Napa when Napa was ascendent, and when Sonoma County was not yet as well-known. Miro has successfully found small properties with great fruit and his wines are mostly vineyard designates.
Ribolla Gialla
The first wine they taste is a Ribolla Gialla, which is an Italian name. Ribolla is a proper name of uncertain origin and gialla means yellow. It's from Friuli, near Slovenia. It isn't more popular because it's hard to get growers to plant it. People around here just don't know it. Bottle Barn stocks it, and if they're out of it today they will have more soon. Bottle Barn also has the Zinfandel and the Cabernet Sauvignon.
Miro is famous for his red wines but he also makes white wines for Trenta-Due. Dan likes his reds because they are explosive with their aromatics but they are good with food too.
Miro's Zinfandel is an Alexander Valley appellation. 2021 was a tricky harvest and a lot of people didn't make any red wine at all that year. Miro's normal vineyards up there were damaged by smoke taint but some other places were spared by chance. This wine did not have smoke taint but it is not labeled with a vineyard designate because it is a one-off. For 2022 he is back to his usual vineyard supplier. Dan likes the structure because it is elegant and could take a little bit of chilling. Miro talks about how hard Zinfandel can be for a winemaker. It gets stressed easily from heat and sometimes the wine just doesn't want to ferment anymore and it forces the winemaker to deal with it. It's a mystery. "I think I can sense when it's about to give up," says Miro.
An Under-the-Radar Cabernet
Next they taste the Miro Cabernet from Dry Creek Valley. The vineyard also provides him with Petit Syrah grapes. This Cab comes from old vines, big burly old vines, probably 80 to 90 years old. With dry farming and old vines, the yields are very low. This vineyard is on a Zinfandel territory, as most of the old vines in that bench land are Zin. This Cab is on the fruity side. It has interesting spice aromas, and cherries and berries. It's relatively soft, as young as it is. Dan Berger says this Cabernet will age 20 years. The danger with the old vine dry farmed grapes is that they can turn to raisins very quickly. This sells for $19.99 per bottle, and Dan says it would be a decent value at $55.