Podcast: Play in new window | Download (Duration: 34:11 — 15.8MB) | Embed
Subscribe: Apple Podcasts | Google Podcasts | Stitcher | RSS | More
David Stare and Tim Bell from Dry Creek Vineyards are our guests on California Wine Country today. Tom Simoneau is in with Steve Jaxon, Dan Berger and Barry Herbst from Bottle Barn. Tim Bell was last on this show back in 2017. David Stare founded Dry Creek Vineyards in 1972 and Tim Bell is their winemaker.
David grew up in Boston and then lived and worked for a couple of years in Germany. He was right on the Rhine River and he would visit many wineries there. He returned to the US in 1969 but in 1970 he visited France and went to a lot of wineries. That's when he decided he wanted to work in wine. He moved to California in 1971, studied enology and viticulture at UC Davis. He visited a lot of the wine regions and decided to focus on northern Sonoma County, in and around the town of Healdsburg. In April of 1972 he found the property where his winery is now located. They started with about 50 acres and now they have about 150 in different places.
David was first to plant Sauvignon Blanc in Dry Creek Valley and the first to produce a Fumé Blanc in Sonoma County. At the time, there were only three producers in Dry Creek Valley, Pedroncelli, Frye Brothers (now the Gallo facility) and one other, where Wilson Winery is now located.
Tim Bell got started in wine "sort of accidentally" when he lived in Southern California and got a job at a wine shop. He simply started learning more and more and "quickly got caught up in the romance." He liked that it combined his artistic and scientific interests. He graduated from UC Davis in 1994 with a Fermentation Science degree. He has been at Dry Creek Vineyards since 2011.
Tom says that Dry Creek Vineyard is known for Zinfandel and Sauvignon Blanc but they also have Chenin Blanc. In 1973, they planted Sauvignon Blanc, Chenin Blanc and some Chardonnay. David Spade tells how he originally wanted to put his winery on his home property but when his neighbors opposed it, one of the county Supervisors promised him he could build anything on another property of his. He says turned out to be the best place to build and he is glad it worked out that way. "I think my stars that my neighbors opposed me… We have the plum spot in Dry Creek Valley."
The Beginnings of Sauvignon Blanc in Dry Creek Valley
Dan Berger says that Dave was visionary to put Sauvignon Blanc in Dry Creek Valley because they are so perfectly matched. The leading viticulturalist in Sonoma County came for some soil tests and declared it was good for grapes. When David asked if Sauvignon Blanc was good for there, nobody thought it was appropriate. But he took the gamble and it has worked splendidly. At the time Sauvignon Blanc was not well known or respected. Dave remembers that Barney Fetzer said that they called some Sauvignon Blanc "Fumé Blanc" and it outsold the other by 3 to 1.
They taste a 2018 Sauvignon Blanc which Steve really likes. Tim Bell explains that this wine has characterists that differentiate it from the Fumé Blanc. It is a smaller bottling than the Fumé Blanc. It is picked at a higher ripeness, it comes from a clone of Sauvignon Blanc that is more floral, and uses also a little Sauvignon Gris that gets a little copper gray color.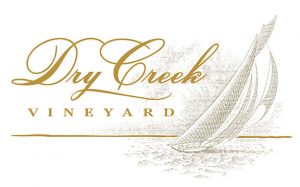 On the other hand, the Fumé Blanc is picked at lower ripeness, uses only stainless steel fermentation, so cool temperature fermentation. The Sauvignon Blanc uses a small amount, 16-18%, of barrel fermentation. They use hardly any new oak. They use some Acacia wood barrels and some Chestnut wood barrels. After some trials he settled on that because they really let the aromatics of Sauvignon Blanc come forward in a way that new oak does not.
Tom Simoneau says it is almost grassy, grapefruity, lively, good acidity, cleanses the palette well. David has been a fan of the New Zealand style. Dan says this is dryer than the New Zealand ones. Barry says it is one of the best sellers at Bottle Barn and wins a lot of awards.
David Stare was the first to release a wine using the descriptor "Meritage." Tom Simoneau points out that Meritage takes the American pronunciation "MER-i-tidge" as it is not a French word. It rhymes with heritage. Tom Simoneau explains that the term Meritage has become synonymous with Bordeaux blends.
Now they taste the Chardonnay, which Tom calls delightful and spicy. Tim Bell says the barrels add a nice accent. It is a 2017 estate bottled Chardonnay from Russian River Valley. Back in the 1990s they made a lot more Chardonnay than they make now. They cut back from 30,000 cases to about 100 or 1500 cases per year. The quality of those has gone way up. But their main production is Sauvignon Blanc now.
They also taste a Zinfandel. They have used cuttings from several old vine vineyards. Tim says it showcases the region and he likes the beautiful fruit and spice. They use a restrained amount of new oak to let the fruit shine. Dan notes black raspberry aftertaste. Barry likes the nice juicy quality whereas so many Zinfandels are fat and viscous like Port. Tim says their Zinfandels are not over ripe and are well balanced. Dan notes that this wine has enough acidity to deal with 14.8% alcohol. Tim Bell describes their devotion to the old vine vineyards. The other Zinfandel is just a bigger richer wine, says Tom.