Podcast: Play in new window | Download (Duration: 5:08 — 7.1MB) | Embed
Subscribe: Apple Podcasts | Google Podcasts | Stitcher | RSS | More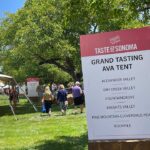 Taste of Sonoma Report: While The Drive is on Summer vacation, here is our report on the 2023 Taste of Sonoma, produced in collaboration with our friends at Sonoma County Vintners. 
---
On Saturday, June 24, Sonoma County Vintners put on Taste of Sonoma at the Kendall-Jackson Estate.
On Saturday, June 24, Sonoma County Vintners held this year's edition of Taste of Sonoma at the Kendall-Jackson Estate. We collected comments from several people including guests, exhibitors and representatives of local charities, for this 5-minute audio report from the event.
Thanks to Michael Haney and Barbara Cox of Sonoma County Vintners, Cathy Ratto, Steve Jaxon and Dan Berger, Linda Real and the North Bay Bohemian, Kristin Coughtry from St Francis Winery, Cristina from Benicia, Dani Logue from the Charles M. Schultz Sonoma County Airport, Matt Ward of Pride Mountain Vineyards, Sonia Byck-Barwick and Social Advocates for Youth, Shayna and Redwood Empire Food Bank and Margie Pettibone and Catholic Charities. Thanks also to Noël Coward, Patricia Routledge and Vince Guaraldi, for their bit of fair use musical accompaniment.
Taste of Sonoma is always one of Sonoma County's most highly anticipated events of the year. Every year it features wines from about one hundred local wineries, along with several various food trucks. The event includes walk-around wine tasting, guided wine seminars, garden tours, a beer garden, premium wine experiences and the themed lounges. The event attracts a crowd of folks who appreciate the best of what Sonoma County produces. With access to more than 60 wine varietals and 19 unique growing areas, Sonoma County's remarkable winemakers craft world-class wines for every palate.
The next Taste of Sonoma is on June 22, 2024.