Podcast: Play in new window | Download (Duration: 39:28 — 18.2MB) | Embed
Subscribe: Apple Podcasts | Google Podcasts | Stitcher | RSS | More
Today was the Dan Berger International Wine Competition and our panel has just come from the final round.
Ellen Landis, certified wine judge; http://www.ellenonwine.com/
Tom Silverkleit, editor and publisher of Wine House Press in Sonoma, whose best selling books have been featured in major media. http://www.californiafinewineries.com/
Tom Simoneau, longtime friend of the show and a frequent guest.
They and Dan all just came back from Dan Berger's annual wine competition and they brought all 5 sweepstakes bottles plus many others, a total of 17. http://www.dbiwc.com/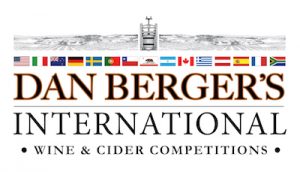 They begin by talking with Tom Silverkleit about his company's wine directories. They publish The California Directory of Fine Wine. They cover two areas, California Central Coast, and Northern California, otherwise their staff would be over extended. Every two years they do a new edition. There are many new wineries in the new edition. They pick wineries that are open to the public and which have good experiences, even for those who don't like wine. Steve remarks on how beautiful the books are. The photographer is Robert Holmes. They are widely available in local bookstores.
Then Steve introduces Ellen Landis and asks for her history. Growing up, there was always red wine on the table at dinner. There was a drop of red wine in her water glass. As she grew older, there was more wine and less water. So she grew up with the comfort of this beverage. Her grandfather made wine in Croatia, too. Steve remembers that his grandfather also made wine at home and would offer it to him even when he was a kid. When Ellen was old enough to taste wine, she travelled to many wine regions around the country and around the world. She spent several years as a Somellier at the Ritz Carlton at Half Moon Bay. She and her husband also had a small hotel.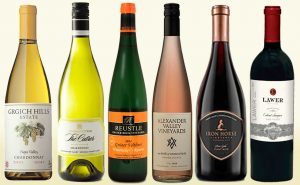 Their first tasting is Grgich Hills Cardonnay. Dan calls it a European style wine with California fruit. He tries to make it with a little less oak, and it's a good example of how Napa Valley has maintained its presence in Chardonnay without getting too big and rich and buttery. Dan says Mike is 92 years old and his nephew Ivo makes the wine now. He was the winemaker that made the wine that won the famous Paris tasting.
The next wine, a 2015 Sonoma-Cutrer Chardonnay, is the Sonoma County counterpart. Dan calls it a terrific property. Dan says it has more richness and great acidity. Steve is impressed, so is Ellen, who calls it a beautiful vintage. Dan says it's fresher and younger with a little more spice. It got the Gold Medal best in class at the competition today.
Steve says that he loves them both, for their differences, although the Sonoma-Cutrer is more his style.
Steve asks Dan to describe the Dan Berger International Wine Competition, which has been held in the first week of May of every year since 1982. It is not open to the public but they can discuss the results.
Hillers Den 2016 won the Gold Medal at the competition, a producer from Marlborough, New Zealand, that Dan had never heard of before, it just came in as an entry. It's the sweepstakes white.
The sweepstakes rosé at this year's Dan Berger International Wine Competition is from Alexander Valley Vineyards.
After the break, Steve introduces Ellen Landis again and asks her to explain her participation on the "acquisitions board" which acquires wines for the competition. This is one unique competition in which the contestants have to be nominated by a board membe. It is called The American Fine Wine Competition.
Dan tells about his competition which started in 1982. They store the wine at 50 degrees adjacent to where the judging takes place. It is a very convenient venue, the best they have ever had.
They had 1,356 wines in competition. They rely on winemakers as judges.
Ellen comments that she loves the way Dan puts the panels together, often with a journalist, a winemaker, a somelier and a retailer, to get their different perspectives. She says that makes the judging extremely fair and open to different perspectives. Dan appreciates that recognition. He tries to bring people in with opinions who are willing to express them.
Dan explains that they have a huge operations budget at the Dan Berger International Wine Competition, which they support with entry fees. The wineries will pay the entry fee willingly because they know that the results are going to be reliable.
The results are available on the competition's website, http://www.dbiwc.com/.
Next they taste a Gruner Veltliner wine from Oregon, from the Umquah Valley, Reustle Prayer Rock Vineyards. www.reustlevineyards.com
It won Best of Class Double Gold. It's the most widely planted grape in Austria.
Next they taste a 2014 Iron Horse Pinot Noir, which Dan says is really exotic. It's going to cost $85 a bottle but it's fabulous. Ellen says their wines are beautifully crafted and this is a great example.
Returning to the Alexander Valley Vineyards Rosé, Ellen mentions its gorgeous fruit and wonderful balance.
They taste a Somerston Merlot that got 93 points from Robert Parker.
Dan says it needs patience and 8 to 10 years in the cellar.
The final taste is a Lawer Cabernet from Napa Valley.
Before leaving they mention the Gloria Ferrer that won at the Dan Berger International Wine Competition for sparkling wines and the Ferrante Ice Wine from Ohio.