Podcast: Play in new window | Download (Duration: 25:23 — 8.7MB) | Embed
Subscribe: Apple Podcasts | Google Podcasts | Stitcher | RSS | More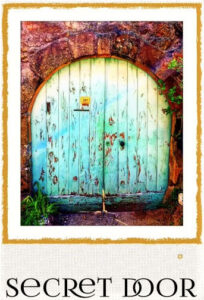 Donald Patz of Secret Door Wines is our guest on California Wine Country with Steve Jaxon and Dan Berger today. He was last on CWC on this October 16, 2019 episode.
Donald Patz was a founder and winemaker for the Patz and Hall label for many years, where there were two couples, four partners, making Cardonnay and Pinot Noir from 1988 to 2016. When Ste. Michelle winery in Washington state bought them, he continued working for them for one year, then became independent in 2017. He had a photo of a door in Beijing that he found suggestive and it became the brand and label for Secret Door. "It has been a wonderful transition …" to start again in the business.
Today Dan Berger has once again brought a cellar wine to taste. It is a 2008 Shiraz from Maclaren Vale in Australia called D'Arenberg. The wine is called "The Dead Arm" because of the way they prune the vines, one arm of the vine does not produce fruit. All the tannins have resolved, it's 15% alcohol but that doesn't show very much. It is a substantial wine that would go well with BBQ meats.
Secret Door
Secret Door is 100% Napa Valley Cabernet. The sources are two vineyards, one in Stag's Leap and another in the eastern hills above Lake Hennessey. He makes them as single vineyard designates. This one is the Sage Ridge, from the mountainside vineyard up near Pritchard Hill. This is a particularly steep area, dry and hard to farm. It is a great place for Cabernet. There are aromatic plants, wild sage and pines, growing around and that gives the place a background aroma that comes through.
Meritana
Now they taste the 2019 Meritana Chardonnay. Donald Patz created the three labels to differentiate them. This is Meritana Vineyards which focussess on Russian River Pinot Noir and Chardonnay. The vines were planted in 1967 and the vines are 50 years old, interplanted with other vines. Dan Berger says that the vines really show consistency and varietal characteristics after 20 years. Full malolactic, good structure, would go well with lobster.
Dan Berger says that the Meritana label is promising.  Why the separate labels, Harry Duke asks? Donald Patz says it's because they are all truly different and made in different places. Meritana is all for Pinot Noir and Chardonnay while Secret Door is totally focussed on Cabernet. There are some advantages to this, including marketing, since some wine lists may more willingly show three different labels than three wines from the same. Dan Berger points out that in Burgundy, you make Pinot Noir and that's it. But in California you can be in different places and make the same varietal so your mind set is different.
The Meritana wines are different than the ones he made at Patz and Hall. Chardonnay uses a lot less new oak, so the wines have a fresher feel, and he uses a lot more whole-clusters in the Pinot Noir which brings out an aromatic character that he likes. Dan Berger agrees that this wine does have whole cluster flavors. It runs a risk of stemmy flavors, and you want just some, just not too much.