Podcast: Play in new window | Download (Duration: 40:30 — 18.7MB) | Embed
Subscribe: Apple Podcasts | Google Podcasts | Stitcher | RSS | More
(Due to NBA basketball on home station KSRO, there is no new CWC show today. For this week's podcast here is a reprise of this June 2017 show.) Bob Cabral is here to taste and talk about the three wines that comprise the launch of his own new winery, Bob Cabral Wines. He has worked at De Loach and Kunde and others, was winemaker at Williams Selyem (from 1998-2014) and is now at Three Sticks Winery.
Tom Simoneau introduces Bob Cabral who is is introducing his first line of wines under his own name. Tom says these wines are spectacular. All the wines have proprietary names because none of them have a single vineyard. They are:
• 2015 Troubadour Russian River Valley Pinot Noir,
• 2015 Cuvée Anne Rose Sonoma Coast Chardonnay,
• 2016 American Girl Russian River Valley Rosé of Pinot Noir.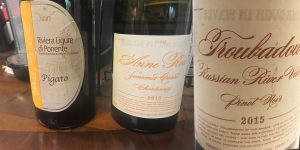 He describes how they made the Rosé, using the saigner, or bleeding process, which uses CO2 to keep the oxygen out and natural yeast. He put the juice in a once used French Oak barrel. Dan says you run risk of volatility but he has none. He insists that he has to work clean. He insists on a clean cellar. He got the gorgeous color that he wanted. He back blended some red into it to adjust the color. Dan and Bob both think it will be better in about two years. Dan calls it "rosé with a purpose" meaning it is close to a red wine style. Bob remembers a label called Garnet, which was like a light Pinot or a dark Rosé.
Bob wants to combine the four things most important to him, which are family, music, wine and philanthropy. Read the section "why now?" on his website. Steve asks Bob to tell his background. He grew up near Modesto, where his family grew grapes and almonds. He went to school at Fresno State. He worked for some large producers and later he wanted to do small batches of wine. So he moved to Sonoma 1986, and became assistant winemaker for De Loach under Randy Ullom, who is now in charge of Kendall-Jackson. He taught him that you had to do the best no matter the price point, and the importance of a clean cellar.
He sells wine to musicians and bands such as Sammy Hagar. Steve at first didn't remember the name, but they had Les Claypool, the bassist of Primus, on California Wine Country last year. He produces Pinot Noir on his own property.
Barry Herbst is back from a trip to Europe, where he went to France and Italy, touring wine country in the Loire Valley, then through Piedmont and Tuscany in Italy. He brought two wines from Italy, one from Liguria that is called Pigato, which is very popular in Italy.
(A listener texted in with the information that it was Les Claypool.)
Bob describes some of his interactions with famous musicians who are also wine lovers.
The second wine that Barry brought from Italy is a light rosé. Dan calls it a light, quaffy wine. It's a nice refreshing wine, not very serious, nor does it have to be. Steve toasts to the first day of summer.
Bob describes the Anne Rose Cuvée Chardonnay, which he calls almost Chablis-like. It's named after his wife's and daughter's middle names. It is whole cluster pressed, with nice acidity, good verve. It had a 100% malolactic fermentation and still came out with a pH of only 3.32.
At that, Steve calls a GEEK ALERT and asks for an explanation of that. He says a lot of California Chards run about 3.45 to 3.65, which Dan says means they are softer and Bob calls rounder, more approachable. It should be superb in 10 years, but Steve says only Dan can lay it down for that long. They all agree it has a strong, persistent finish. Dan says it will be sublime in five years.
Bob says that he knows Bottle Barn for being good at bringing in obscure and hard-to-find wines.
Bob has a song list for each of his wines on his website and he thinks the music is as individual as the wines.
Next they taste the Pinot Noir and Bob says it may be hot in the daytime in the Russian River Valley but in the evening and at night it gets a lot colder, which really affects how the grapes grow. Dan says it has interesting structure.
Before closing, Steve remembers Christopher Silva, who just died at 52 of brain cancer at Memorial Hospital. He was a pillar of the community and was the head of St Francis wines. Dan remembers that he was a visionary, both in the pairings he served at the winery and for his wines. Steve remembers that he came in to the show many years ago and Steve was really impressed. He did great things for Santa Rosa Junior College to raise money for SRJC using wine. Now they still do it. Bob said Chris was a rare individual and enriched his life.