Podcast: Play in new window | Download (Duration: 28:01 — 12.8MB) | Embed
Subscribe: Apple Podcasts | Google Podcasts | RSS | More
Mark Beeman, winemaker at Sebastiani, is in the studio today to talk to Steve Jaxon and Dan Berger on California Wine Country.
Sebastiani wines has been in business since before 1904, but the vineyard goes all the way back to 1825 when the Franciscan padres who established a mission in Sonoma also planted a vineyard that year. That vineyard is still on the Sebastiani property.
Samuele Sebastiani came from Tuscany and landed in Sonoma County around 1897, working first as a mason. He built a lot of the facilities and facades around the area and at the winery, including the stone arch gate in the illustration above and the Sebastiani Theater, built in 1933. The winery is gorgeous and one of the great visits in the area.
Samuel Sebastiani planted a cherry orchard where Cherry Block is planted today. Samuel's son August replanted it from cherries to vines in 1961. Cabernet has always been at the heart of this winery. They were labeling it since the 1940s and helped put Sonoma County on the map for Cabernet as a variety. They have the huge old redwood tanks that they used to use, that decorate the tasting room.
Mark Beeman
Mark Beeman grew up on a cattle ranch, his parents were forensic chemists and he got a degree in Geology. Then he joined the Peace Corps and did agro-forestry and conservation work in Tanzania. When he came back from East Africa, he saw that the wine industry was blossoming in eastern Washington and he got a job at Columbia Crest winery. That led to Conn Creek and Villa Mt. Eden. Later he met Paul Dolan and the Thornhill family who were the new owners of Parducci winery in Ukiah, Mendocino County. He worked there about 12 years. A few years ago he went to Maui to make wine, for three years. Now he has been the winemaker at Sebastiani since December of 2020.
After Peace Corps he knew he needed more knowledge so he took courses at UC Davis, took online courses and studied at Santa Rosa Junior College. But Mark also gives credit to his colleages. There are other winemakers in the Foley portfolio, such as Chalk Hill and Ferrari-Carrano. They collaborate, debate, talk and learn from each other. "The education isn't always just at school, it's also with your co-workers."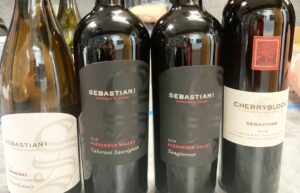 Dan Berger has brought another cellar wine today, a 2017 MacRostie Winery Chardonnay from Sonoma Coast. It has good acidity, bright fruit, and some complexity. For comparison, Mark has brought a 2019 Chardonnay called Patrick's Block, which Sebastiani controls, so they have full say over everything from dirt to cork. It has lemon peel flavors and Dan says it's "Burgundian," that is rich but not just fruity, it has rustic character from lees contact and barrel aging.
Tastings
With its new ownership, Sebastiani has been a part of Foley Food and Wine Society, since 2008. Mark Beeman works closely with the other winemakers in the group. For example, they just met to discuss how to improve white wines. Membership in the society provides benefits at their many tasting rooms and wineries.
They then taste their Sangiovese, the grape of Chianti wine. It comes from two differently-situated vineyards in Alexander Valley, which produce complimentary flavors. The oak is very light, which Dan Berger says is important for Sangiovese. It has some cranberry flavors too.
At last they taste their 2019 Alexander Valley Cabernet, which showcases what the fruit can do in this area. It won a Double Gold Medal at the SF Chronicle competition.