Podcast: Play in new window | Download (Duration: 27:03 — 12.4MB) | Embed
Subscribe: Apple Podcasts | Google Podcasts | RSS | More
Kevin Bersofsky from Montagne Russe Wines is our guest in the studio and Randy Bennett from Sojourn Cellars will be calling in later. Petaluma Gap is a fairly new appellation and it is becoming famous for quality wines, and for wines that are distinctive. The Petaluma Gap Winegrowers is promoting the Wind to Wine Festival on August 13, 2022. It will be a celebration of Petaluma Gap featuring 25 wineries from this new AVA. Many smaller growers and winemakers will be there and they will be sharing their stories.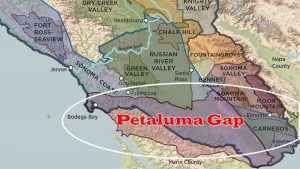 Despite our general warming, the Petaluma Gap area remains quite cool. The wind begins about Bodega bay and curls in all the way to San Pablo Bay. The wind comes in from the west and it blankets the gap. It is a cold region, and it needed to be carved out of the Sonoma Coast appellation. Dan emphasizes that the wind is the key feature that slows down the maturity of the vines. This allows the grapes to stay on the vines longer, for more flavor.
At the Wind to Wine Festival on August 13, there will be 25 of the greatest wineries in Sonoma County. There will also be an early hour VIP ticket with special pours and a chance to meet the winemaker. General admission begins at 2pm, VIP at 1pm.
The Montagne Russe Chardonnays are rich but also have strong acidity, which is the holy grail of winemaking. The secret to the wine is the acidity, says Dan.
Kevin tells the history of Montagne Russe. In the mid-2000s he moved from LA to up north, and he was making wine in his garage. His neighbor called the ATF and they found that he was making more wine in his garage than he was supposed to have. They made him stop making amateur wine so he turned pro.
Randy Bennett from Sojourn Cellars in the Petaluma Gap calls in on the phone. They have been producing wines in Petaluma Gap since 2004. It was a Pinot Noir and they still produce it. Then they started making a single-vineyard wine from Gap's Crown, long before it became an official AVA.
The Sojourn Chard is young, so bright and fruity, and has not have time to develop complexity in barrel. It will do so, because it's acidity is strong enough to reward you if you can put it away for 2 years. Two hours in a decanter will show you something of what aging will do.