Podcast: Play in new window | Download (Duration: 37:09 — 17.1MB) | Embed
Subscribe: Apple Podcasts | Google Podcasts | Stitcher | RSS | More
Jeff Pisoni of Fort Ross Vineyard and Winery is our guest today on California Wine Country with Steve Jaxon and Dan Berger. They begin with the history of the winery, which is located near the coast on one of the most beautiful spots in the world. Jeff says that they think the vines have a wonderful view. Jeff went to California State University at Fresno for a degree in enology and worked at several wineries. He grew up making wine. His father was a grape grower in Monterey County. He still grows grapes in Monterey but he makes wine in Sonoma County, in Santa Rosa. There he met Linda and Lester Schwartz of Fort Ross about 10 years ago and he started making wine with them. He loves working with their vineyard on the Sonoma Coast. He liked studying at Freno State, it was very hands-on. "My brother went Davis so I thought Fresno would be a great option."
First they taste a Chardonnay, all Fort Ross Estate fruit, 2016 vintage and "just a baby" says Dan. The structure is rich, great acidity without too much oak, so the citrusy fruit flavors come out. Dan thinks this is a distinctive New Zealand style Chardonnay. The texture is not so rich it's cloying, says Barry. Jeff explains that the vineyard is planted almost all in Chardonnay and Pinot Noir. The site is cool and has amazing soils and produces a fresh and vibrant wine. Dan says it's easy to adopt this technique but hard to master. You must have cold climate fruit and know how to handle it.
Their Fort Ross location is one of the only tasting rooms in the area, about 15 minutes north of Jenner. The view is magnificent. The picture at the top of this page is from the Fort Ross Vineyard website, which has more images and directions. Jeff says it's one of the few places where you can see the vines, taste the wine and see the ocean, all at one time.
Wines Tasted Today
Fort Ross Winery Sea Slopes 2016 Sonoma Coast Pinot Noir
H. Mynors Old Vine Cuvée 2014 Zinfandel
Fort Ross Vineyard 2016 Chardonnay
Fort Ross Vineyard 2013 Pinot Noir
Fort Ross Vineyard The Terraces 2015 Pinot Noir
Muga 2016 Rosé of Rioja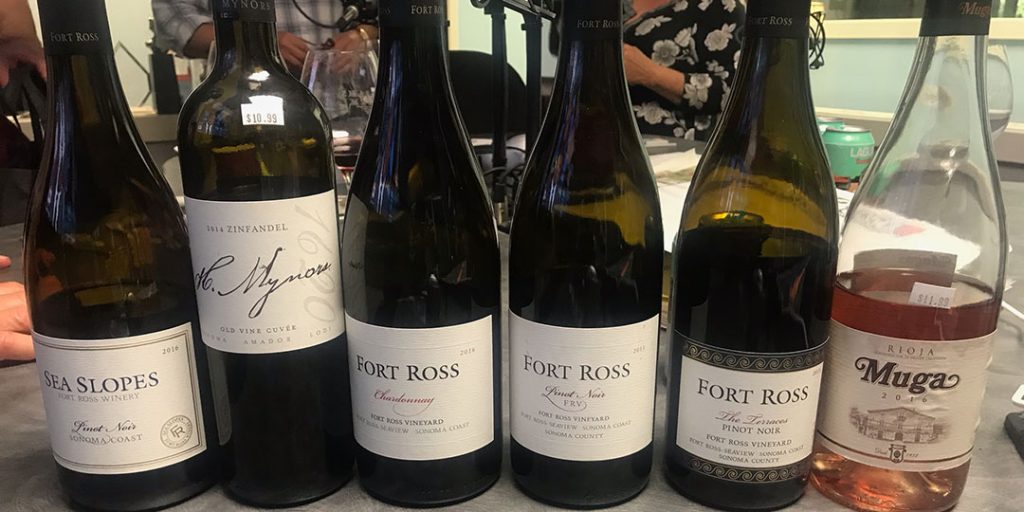 Next they taste three different Pinot Noirs. Their vineyard is about 80% Pinot Noir, so they will concentrate on these. Fort Ross Vineyard is celebrating its 20th anniversary this year.
First they taste the Sea Slopes Pinot Noir. It is more approachable in its price and its flavor, says Jeff. Dan says he would not put this one away for very long because it has such brilliant fruit. It's tasty with a "Burgundian snap" and it's delicious now. It was made to be drunk soon. Dan says that cool climate Pinot Noir is popular now and this is a great example of it.
Dan says that there is an old saying in the wine business, that the best wines are made within sight of the water. It can be the ocean, a big river or lake, will produce enough cooling to take care of the vines.
Next they taste the 2013 Pinot Noir, it is 5 years old and Dan says it is perfect. It is a blend of several blocks in a 50 acre vineyard. They have 30 different blocks and they blend them to represent the entire vineyard. Barry says that 2013 was a big yield year so there are a lot of them. Dan suggests tasting a 2013 like this against a 2016 to taste the difference.
Next is the 2015 The Terraces Pinot Noir, which is the higher end. They carved terraces into a steep slope and it has a subtle black pepper component that Dan tastes. This is about $70-80.
About 2% of the vineyard is planted to a variety that is rare in California called Pinotage, a South African hybrid between Pinot Noir and Cinsault, the Rhone variety. The owners, Linda and Lester, are from South Africa and they wanted one block in tribute to that heritage. They have about 2 acres of it, and there are only about 12 acres of it in all of California.
Then they taste a Rioja Rosé made from Grenache, called Garnasha in Spain, and Tempranillo. Tempranillo is the backbone of Rioja. This is a Rosado, which is Spanish for Rosé. It's a white and a red fermented separately and then blended together. The Bottle Barn Rosé tasting last week was a big success, they will do another Pinot Noir event in August. Finally they taste the H. Mynors 2014 Old Vine California Zinfandel, a great value for its low price point. Dan says it doesn't have an artificial oak component. Sonoma, Amador and Lodi Counties provided the fruit.