Podcast: Play in new window | Download (Duration: 40:05 — 18.5MB) | Embed
Subscribe: Apple Podcasts | Android | Google Podcasts | Stitcher | RSS | More
Simi Winery is the subject of today's show, featuring their two winemakers, Susan Luker and Lisa Evich, with Tom Simoneau, Steve Jaxon and Dan Berger. Also in today are George Rose, wine photographer and Barry Herbst from Bottle Barn. Tom Simoneau's Winery of the Year for 2017 is Simi Winery and Susan Luker and Lisa Evich, both winemakers at Simi Winery are in the studio today with Damy Tamburrino, their visitor's center manager.
Today's Wines Tasted:
Simi "1876" Sparkling Wine, Sonoma County
Simi 2014 Los Carneros Chardonnay
Simi Dry Rosé
Simi 2014 Alexander Valley Block No. 4D Zattera Rosso Red
Simi Reserve 2013 Alexander Valley Cabernet Sauvignon
Tom says that visiting Simi is like going to a museum of wine. They tell the story of the Simi brothers, Giuseppe and Pietro, who came from Montepulciano in the 1850s. They came to mine for gold but became purveyors for the gold miners. They grew wealthy in San Francisco doing that. They were Italian, so they always had a barrel of wine and they became well known for having good wine. They finally moved to Healdsburg in 1880. Dan notes that this is one year before Italian Swiss Colony was founded. It was founded to help Italian fishermen who were out of work.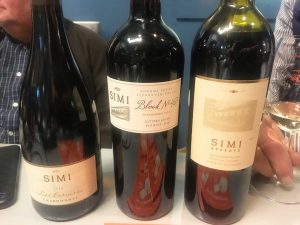 It's Susan's 26th harvest. She grew up in the Midwest, was a farmer's daughter and didn't want to live on a farm. But, she couldn't escape it. She did go to UC Davis. She has been at Simi for 17 years, which is ironic because she didn't want to sign a 5-year contract at first.
Lisa's first harvest was in 1997, a temp job, then she worked for Simi, took a break to start a family, then took other jobs in the wine business, then Susan said that when she had a job opening she would hire Lisa and three years ago, she was able. Lisa does the Pinot Gris and Rosé with a little input from her. The sparkling wine was a group effort.
Steve asks Dan to talk about the Simi property and he tells how it has been a wonderful historic property. They had a connection with the Del Monte Hotel in the 1930s. To this day some bottles from as far back as 1941 are still available. Caragnon was the main grape back then and they still make a red blend, but they don't make Caragnon anymore. It was the dominant grape in the '40s and '50s, but they don't have any more planted.
George Rose, wine photographer, is also back on the show. He has been in the vineyards since early this morning, taking pictures.
Tom tells why Simi is his winery of the year for 2017. When he first moved to California, he would visit the Simi winery and he has always noticed how great their Cabernets are. He ran into Damy at the Sonoma County Harvest Fair. He visited the winery, he tasted the whole portfolio and he was very impressed. The Reserve 2013 is "Alexander Valley to the max" and became his wine of the year. Tom says, "A large corporation that owns a big winery that makes small lots like this, this is a little gem in the corporate crown, and that's Simi."
Dan bought a couple of cases of 1970 Cabernet and he still has 3 or 4 bottles in his cellar and it's still drinking well.
Next they taste their sparkling wine, it's a blend, their brut. The label says 1876, part of the 140 year celebration. Being non-vintage, they don't have to worry about the date on the bottle. You can taste more of the fruit than the bubbles, which they all like. Dan says you can smell the Pinot Noir in it.
Next they try the Rosé. Dan notes it's a cassic wine, a great example of how to make Rosé from Cabernet. It's faintly herbacious, which is part of its charm. Lisa tells how it is blended from 64% Cabernet, also with Merlot, Malbec, Zinfandel and a little bit of Graziano.
Steve introduces George Rose, a photographer who specializes in wine images. He had a 20-year career in Sonoma County as a wine communications executive, and now he has gone back into photography. He has become the top vineyard photographer for the region. The book can only be acquired at George Rose's website. Dan calls it a wonderful introduction to Sonoma County. He also wrote the book's introduction. He says he photographs in a way that required massive attention to detail and his work is the best photography he has ever seen of wine subjects. Since George Rose has been on the show several times before, today is being inducted into the Drive Hall of fame, with the fanfare of horns.
Next they taste a Los Carneros 2014 Chardonnay. In their tasting room they have a full spectrum of Chardonnays that can be tasted side by side.
Damy talks about their facility where they have weddings and other parties. They do "Vino e Cibo" which means "Wine and Food" in Italian. They do 4 per year and they are open to the public. The winery has been rennovated and it is a classic piece of property, having been there since 1881. Tom suggests it is a perfect destination to take a visitor from out of town.
Steve asks Susan and Lisa to tell about what's going on now at the winery. With the recent false spring, they are probably closer to bud break than they would like to be. It's risky weather, because if the buds push, then if you get a frost, the buds will freeze. In 2008 that happened and it looked like someone burned the tops of the plants.
Steve asks Susan, Lisa, Dan and Tom if there is a major winery in Sonoma County where both the winemakers are women. They explain that there are a lot more women in the industry now but they are the only two-woman team that they know of.
Tom says of the 2013 Reserve Cabernet Sauvignon that it is an iconic wine. Dan says that Alexander Valley is a "most propitious" place to grow Cabernet.