Podcast: Play in new window | Download (Duration: 35:40 — 16.5MB) | Embed
Subscribe: Apple Podcasts | Android | Google Podcasts | Stitcher | RSS | More
John Balletto and Anthony Beckman from Balletto Vineyards are back with Steve Jaxon and Dan Berger on California Wine Country today.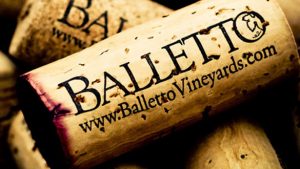 Dan says that their secret is controlling the source of fruit from every single grape all the way to the bottle, and the variety of types of wine they make. First they taste the 2015 Russian River Chardonnay, their flagship Chard. That year, you would get 2 tons per acre, the shortest year in about ten years, which defines it more than anything else. With less fruit, it ripened earlier, too. Today they will taste two 2015 Chards, which both display Russian River Valley characteristics. Dan says that it has good acidity and it would go well maybe with some halibut or some kind of seafood.
Then, winemaker Anthony Beckman describes this wine as a blend made from different vineyards. He has made wine for 12 years now, from the same vineyards, so he knows what to expect from every block of each vineyard. Every year the knowledge base grows and after 12 years, that adds up. He is proud that John Balletto and he can work together so well.
His history in the wine business is a long one. He started as a newspaper reporter in Washington DC. He gave it up and moved to San Francisco working in the dot com businesses, in the early 2000s he spent all his time in Sonoma County. One day he quit his day job and took a rather menial job in a winery. He worked in New Zealand for a bit, he did get a degree from UC Davis in viticulture and enology after two years of junior college to take all of his science requirements. He graduated in 2006, John hired him at Balletto Vineyards a year later and he has been there since. John says that his two daughters have interned with him and that he is a great mentor.
Then John talks about Balletto Vineyards, going back to his high school graduation in 1977. When he was 12 (1972) his dad started planting vegetables on some land they had south of Sebastopol, where he grew up. After he became ill and passed away, he and his mother expanded the farm to 700 acres in Sonoma County over the next several years. In the mid-90s, they had acquired an old 35 acre apple orchard that his friend suggested would be good for grapes. Now there are several vineyards out there.
In 1996 they planted 20 acres of Pinot Noir, 10 acres of Chardonnay and 5 acres of Pinot Gris, in a cool area. Everyone thought he was crazy, but he loves Pinot Gris so that's why he did it. All of the Balletto Pinot Gris comes from that area.
Dan says that Pinot Gris can be aromatic if it's done right. A lot of it was grown in the wrong places, so its reputation suffered. But it needs to be grown in a cool place, which is why theirs is so good. Anthony agrees and adds that Pinot Gris and Pinot Noir are very closely related varieties. They look alike except for the color. So he planted Pinot Gris in one of the best Pinot Noir locations, so his Pinot Gris is really world class.
John continues the Balletto story, as their first vintage was 2001, with 200 cases of each. Now they make almost 30,000 cases for the Balletto label.
Now they grow grapes on 700 acres and 90% of their grapes are sold to other wineries.
Next they taste the 2015 Cider Ridge vineyard Chardonnay, which is at about 1000 feet in elevation, about 10 miles from the coast. He calls it his solar panel vineyard, with its perfect southwest exposure. He gives it a little more time in oak, he likes it floral aromatics and its weight, depth and tannins.
He uses native wild ferment, which he believes is key for Chardonnay. Steve, a big Chardonnay fan, really likes this one, even more than the other one.
Dan says it's more of a specialty wine, in one respect, because of its strong spice component. You could easily have fooled him by saying it had 1% Gewurtztraminier in it. Anthony says he focussed on the texture of this wine because it comes across as three things all at once. First, it is tart, the acid is high. Then, it has a strong midpalette and viscosity, it has a weight and thickness. Finally, there are the tannins on the end, so it "…finishes with a little bit of a grip…" and has a very weighty mouth feel that is typical of a red wine.
Dan says that a lot of Chardonnays come across with lemony flavors, but this one comes across as a Meyer lemon. It's its own style, he says.
These wines are each from distinct vineyards and he likes to keep them separate and let them speak for themselves, rather than just blend them all together.
After they break they taste a sparkling wine. John's wife Terry said she wanted to do that, in 2010, then late in 2011 Anthony and John met to discuss the prospect, which Anthony thought was scary. He was saying it was a very complex process, but they did it. This is a 2013 Brut Rosé, methode traditionelle, but they can't call it Champagne because the place names are protected. Dan says it's hard to capture all the fruit and not the tannin, it's a delicate process that they did very successfully.
John describes their tasting room, right outside Sebastopol. They have many Pinot Noirs and many other wines. The nice thing about a family winery is that you can meet the winemaker and the family all on site.
5700 Occidental Road, a 288-acre property. They also built a "Field of Dreams" baseball field there. You can hit a home run right into Pinot Gris.
They taste a 2016 Pinot, BCD vineyard, which is their warmest site for Pinot Noir. He also brought a 2011 to taste, for Dan, who likes his wine well aged.
Dan would give the 2016 a minimum of five years, but maybe 15 more years, since it has such good acidity.